Pole vault legend Sergei Bubka on youth, cheats and his IOC presidential bid
Comments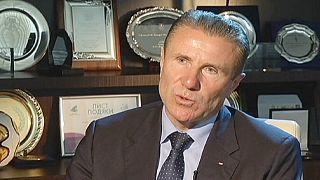 Ukrainian pole vault legend Sergei Bubka has set out his stall to become the International Olympic Committee's next president.
The former Olympic champion, 49, will be the youngest candidate at the election, due to take place in Buenos Aires on September 10.
Bubka – who has experience with the Olympic movement, and in business and politics – says he is a natural leader.
He has vowed, if elected, to prioritise engaging youngsters in sport and fighting match-fixing and doping.
Euronews reporter Angelina Kariakina met Bubka after his visit to Ukraine's Olympic training base in Kiev.
Angelina Kariakina, euronews: "Why did you decide to run for the President of the IOC and what changes would you like to bring into the world of Olympics?"
Sergei Bubka: "Sports and the Olympic movement is my life, I'm the president of the National Olympic Committee of Ukraine, IOC member and vice-president of International Association of Athletics Federations.
"I was an athlete before and after I became a sport administrator, I developed my business and I think all these experiences will really help me to take leadership of the IOC. But most importantly I think I have energy, passion, drive and great experience.
"We have a lot of challenges today with our youth, and we need to engage youth to be more active, more physical, more sporty, to improve their health. Because today they watch TV, they sit in front of computer. If we engage them then we will not lose the generation.
"And, of course, we need to fight against doping and irregular betting and match-fixing; this is a very important area, where we can strengthen our position, we can unite different partners to be stronger and to be more successful."
euronews: "In these times of austerity what do you make of the fact that each time the Olympics get more and more expensive?"
Sergei Bubka: "They are not more expensive, you can put expenses in two parts – the operational part of the Games, this is real cost, but the other cost, regarding infrastructure is not only for the Games, this is for the future. And when you build the roads, airports and the different venues they will become the legacy after the Games.
"Of course, we will not exaggerate, we need to keep costs reasonable. We need to select the venues which will reduce the costs. The number of athletes should be around 10,500, we shouldn't extend this and bring any additional costs."
euronews: "Among the three bids to host the Olympics in 2020, who has the best chances and why?"
Sergei Bubka: "If we look at Madrid – it has almost 80 percent of the venues already done. If we look at Istanbul, their programme is for youth and to connect Asia and Europe. This is very good. Tokyo has always had a big passion for the Olympics and sports and, of course, they organise the competition very well.
"Each city has its own strengths and own values, but I'd like to repeat that they are really good and we'll see who will be the winner very soon"
euronews: "How do you feel about the fact that nobody has yet beaten your world record?"
Sergei Bubka: "I think it will happen soon. Today we have a French pole vaulter, Renaud Lavillenie, who's recently reached 6.02m. He tried to break my record and I think he's very capable.
"The key for success and progress with pole vault will be technical skill: you need to be fast, you need to be strong, to be a good gymnast and very stable psychologically.
"But the key is how you transfer the energy from the runway to the pole. But this is technical skill, this is the key."