Roberto Azevêdo: "WTO needs to modernise to survive"
Comments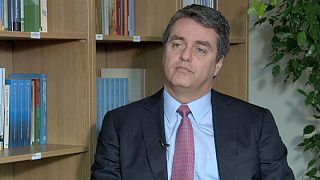 "After eight years under the leadership of Frenchman Pascal Lamy, the World Trade Organization, created 18 years ago, has its first Director General of Latin American origin: the 55-year-old Brazilian diplomat Roberto Azevêdo. Euronews met him in Geneva, Switzerland at the WTO's headquarters, to talk about the future of the organisation, which is at crossroads. "
IMS: "Welcome to Euronews Roberto Azevêdo. You have been working here for theplast 16 years, defending Brazil's interests which, for some people, is a champion of protectionism. What will be your attitude, taking into account the diplomatic proverb that there is not a second chance to make a good first impression? "
Roberto Azevêdo (RA): "Well, as Director General I can not be anything other than a facilitator of understanding and consensus on a relentless pursuit for trade liberalisation. It is one of the essential elements for global economic growth, not just for certain individualized countries. This applies particularly to the poorest countries, that need to open up trade, that need new markets to place their products."
IMS: "It is important to distinguish the medium income countries, such as India, China or Brazil, from the countries facing hardship in Africa, the Caribbean or Southeast Asia. You want to restore an initiative called "Aid for Trade " in order to give, pragmatically, more opportunities for these countries to make trade instead of trying to increase their institutional capacity, which is something long term. Can you explain how you will do this?"
RA: "These countries need greater attention from the multilateral trading system, we must give them more opportunities to fit the commerce and production's chains, something that currently takes place across borders. A product is no longer just made in one country, but in several. However, the opportunities will appear from nowhere, it takes work to identify these opportunities and allow these countries to participate in a more active away in those flows. "
IMS: "The first test that you will face is the ministerial meeting in Bali, Indonesia, in December. You will try to revive the so-called Doha Round, which has stagnated since 2008. What would be the minimal agreement for you to consider that the meeting is successful? "
RA: "Probably the result will focus on issues such as agriculture, trade facilitation, food security, development issues. How, in what way, to which extent and which depth, is what we will negotiate."
IMS: "But are you optimistic?"
RA: "I have studied engineering. An engineer can not be optimistic because the building will fall, but also he can not be pessimistic because he will spend too much money. Basically, I'm realistic: I think there are difficulties, member countries will have to make an effort in order to reach an understanding, but I think this effort is possible. "
IMS: "Because of the dead-lock in the Doha Round's negotiations, we have been witnessing a number of bilateral and regional agreements, I think there are more than three hundred now. Some experts say that these agreements are like "termites", undermining multi-lateralism".
RA: "These bilateral agreements, in which the negotiation is closed and few countries are involved, tend to test the boundaries of trading. They go to the limit of what is possible in terms of negotiating the liberalisation of trade and the creation of new rules. The multilateral agreement involves a larger number of countries, so it tends to be somewhat slower, not going to the border, but harmonize everything in a much faster way. "
IMS: "But if one of these regional agreements will be between two of the world's largest economies, the United States and the European Union, is it not a fatal blow to the WTO?"
RA: "No way, it can help a lot! It can help a lot because it means progress in some fields of work that may eventually be used as inspiration for multilateral understanding."
IMS: "This means that there might be a need to change the methodology. Some voices argue that, instead of the single compromise, with consensus on all topics, one might advance at different speeds, with various groups of work. Such variable geometry is a possibility or you consider that consensus is the best way to move the negotiations forward, despite the dead-lock? "
RA: "I do not see any possibility for an organization like the WTO to decide without being by consensus. What we can do is to create different rhythms for some negotiations, we have to be flexible in the process. I think it is not sustainable that the organization carry on its disciplinary role of international trade if we do not update the fields of work".
IMS: "But can you specify which are those fields of work and which new dynamic you intend to give?"
RA: "For example, in the agricultural area. The agricultural legislation, the subsidies, the phytosanitary barriers of today are not those that existed in the 80s, when the Uruguay Round was completed. In the area of ​​intellectual property there is a huge amount of mechanisms that have been developed in the last 30 years, the same applies in the areas of services or digital economy. "
IMS: "Some people argue that these issues, called non-tariff barriers, are new forms of protectionism, in a disguised way. That is not your understanding?"
RA: "It is the governments' attitudes that lead the market to be more open or more closed. So, we can have fields of work that governments use as basis for an opening, for liberalizing, but may also be used for the closing, the protection, if that is the direction that a particular government is taking. "
IMS: "Anyway, world trade grew by only 2% in 2012, one of the lowest averages of the last two decades. Which are your expectations, the studies you have, on the progress for the next year, or even for the next four years, which is your term of office? "
RA: "In general, global trade has a very close relationship with the economic growth. The important thing is to give member countries the ability to act and interact with other markets in a predictable and balanced way, without rules that favors a certain group of countries rather than another. That there is a balanced and predictable relationship. "
IMS: "Thank you for accepting this invitation from Euronews".
RA: "Thank you"