Bulgaria PM refuses to quit despite daily street protests
Comments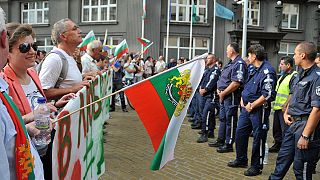 Bulgaria's prime minister pledged on Friday to stay in power despite daily street protests demanding his resignation, but said his government's lack of broad public support would delay major reforms that the Balkan nation needs.
Thousands of Bulgarians, mostly young and well-educated, have been staging noisy rallies outside the parliament in Sofia for nearly seven weeks against Plamen Oresharski's government, saying it is corrupt and dominated by murky business interests.
The protests briefly turned violent on Tuesday night when more than 100 lawmakers, ministers and journalists were trapped inside the parliament building for nearly eight hours, but the rallies have been mostly peaceful and good-natured.
"The insecurity and political crisis are affecting the business climate, but we have a clear plan of action and we are pushing forward," Oresharski said in an interview at his office in the grandiose communist-era Council of Ministers building. "When we speak of resignation, that is an easy personal decision to make but would be irresponsible for the country… I have heard no convincing arguments explaining how resignation would automatically solve the problems of the country."
Oresharski, 53, a gently-spoken former finance minister and an economist by training, said his government would stick to a previous spring forecast of 1 percent economic growth for this year and said it should be slightly better in 2014. "But much will depend on how the political crisis unfolds," he said, adding he was open to dialogue with the protesters.
The protests erupted in June after the Socialist-led coalition named a media magnate to head the National Security Council without debate, a move widely seen as an example of private interests controlling state institutions.
Bowing to the protesters, parliament swiftly cancelled the appointment but the rallies have continued unabated. Oresharski said the protests had forced his government to be more effective but acknowledged that they had made enacting major reforms difficult.
Bulgaria faces a number of problems, including a fast ageing population, ailing health care and education systems and an ineffective labour market, economists say.
Lack of trust
"Large-scale reforms cannot start as they require broad public support but those that are supported such as improving transparency, rules of competition and protection of consumers are going ahead," he said. Other priorities include improving tax collection, cutting red tape and tackling graft with reforms of public procurement and the revenue agency – key breeding grounds for corruption. "If we manage to deliver on our plans, we will convince more people that the government is working… Every mandate depends on the level of trust."
Oresharski's two-party coalition, which was sworn into office on May 29, has the highest disapproval rate of any incoming Bulgarian government since 1997, according to a recent opinion poll. Political analysts do not expect the government to last long, not least because it requires the support of a small nationalist Attack party to pass legislation, but they say early elections would probably produce a similarly divided parliament.
Attack's anti-EU and anti-NATO agenda are at odds with that of the coalition, making it an uncertain partner. Street protests over low living standards and high utility bills in the European Union's poorest member state toppled Bulgaria's previous centre-right GERB government in February. GERB won most votes in the May election but failed to find a partner to build a new coalition, making way for the second-placed Socialists to cut a deal with the ethnic Turkish party.
Oresharski pledged to maintain fiscal rigour – a key requirement to preserve the lev currency's peg to the euro – while trying to ensure companies are paid promptly for state orders so they help spur sorely needed economic growth.
(Reuters)