Senior Taliban member writes letter to Malala Yousafzai
Comments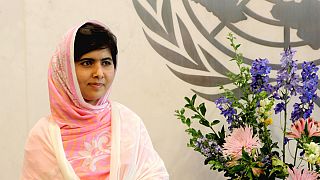 A letter from senior member of the Taliban Adnan Rasheed has been sent to Malala Yousafzai, the teenager who was shot in the head last year by gunmen in Pakistan.
Rasheed explains in the letter that he first heard about Malala while incarcerated in Bannu prison for his role in the 2003 assassination attempt on former Pakistani president Pervez Musharraf.
Talking about the attack on Malala, Rasheed says "it was shocking for me, I wished it would (sic) never happened and I had advised you before". He goes on to say that the Taliban did not target her because of her campaigns for female education, but because they believed she was intentionally writing against them and "running a smearing campaign to malign their efforts to establish Islamic system."
UK television broadcaster Channel 4 announced they have confirmed with Adnan Rasheed that he wrote the letter, although the senior commander of the Tehriki Taliban (TTP) stresses it was written in a personal capacity and not from any faction or group.
Rasheed escaped from prison in April last year along with 300 other inmates. It is believed that the Taliban arranged the jailbreak to free him.
The letter comes just days after Malala's 16th birthday when she gave a moving speech at the United Nations in which she called for world leaders to provide education to all children. In his message Rasheed added, "You have said in your speech … that the pen is mightier than the sword. So they attacked you for your sword not your books or school."
The four-page letter, in broken English, then admits that the Taliban are "blowing up" schools, although it defends the acts by claiming the Pakistan Army and Frontier Constabulary are also targeting the buildings. Rasheed claims that schools are turned into "hide outs" and "transit camps" and used as barracks by the army.
Later Rasheed asks Malala to consider whether she would be known had she been injured in an American drone attack: "Would the media make a fuss about you? Would General Kiyani have come to visit you and would the world media be constantly reporting on you?" He concludes by advising Malala to go back home, urging to her to "adopt the Islamic and Pashtun culture, join any female Islamic madrassa near your home town, study and learn the book of Allah, use your pen for Islam and plight of Muslim."
The story of Malala Yousafzai drew global attention after she was shot at point blank range as she left school in the Swat Valley. Following the incident she was airlifted to a specialist hospital in Birmingham, UK, where she was treated by a team of military doctors and underwent hours of surgery. She has since made a full recovery and attends a school in Birmingham.
Read the full letter here