Brazilian man crushed by cow falling through roof
Comments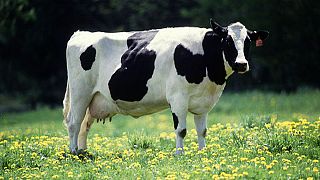 João Maria de Souza was killed last Thursday when a cow fell through the roof of his home in Caratinga, southeast Brazil, according to local police. It had apparently been grazing on a nearby hill.
Souza, 45, and his wife, Leni, were in bed when the cow stepped on to the corrugated roof of their house, causing the bedroom ceiling to cave in. The cow then plummeted just over two metres on to Souza's side of the bed. His wife escaped unharmed.
Initially, Souza seemed to have no serious injuries and was reportedly talking coherently when he was taken to hospital with a fractured left leg. However, according to his family, he was still waiting to be seen by doctors hours later, and eventually died from internal bleeding.
"Being crushed by a cow in your bed is the last way you expect to leave this earth," his brother-in-law Carlos Correa commented to Brazil's Hoje em Dia newspaper. "But in my view it wasn't the cow that killed our João, it was the unacceptable time he spent waiting to be examined."
The cow, which reportedly weighed up to one and a half tonnes, was not harmed. However, the cow's owner could face a charge of involuntary manslaughter.