A woman 'walks off' after falling under train - Video
Comments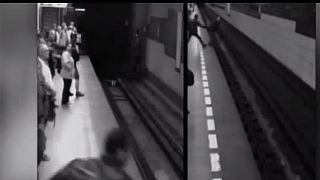 A video shows how a Czech woman beat the odds this week in the Prague underground when she fell under an oncoming train but then crawled out from between carriages unscathed.
The young woman, who appeared to be dozing on her feet, fell off the platform on Monday into a deep groove between the subway rails, saving her from the impact of the undercarriage zooming by overhead.
The video shows a bystander springing forward to grab the woman, but failing by a whisker. She falls into the track just moments before the train rumbles through.
Station staff can be seen peering under the train before kneeling down and pulling her out through the gap between the first and second carriages.
The woman clambered back onto the platform before dusting down her trousers and "walking off", Czech police said.
She reportedly refused both medical treatment and a breathalyser test, telling police she was "merely tired".