Egypt army gives Mursi 48 hours to compromise in crisis
Comments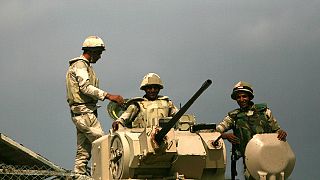 Egypt's powerful armed forces issued a virtual ultimatum to Islamist President Mohamed Mursi on Monday, calling on the nation's feuding politicians to agree on an inclusive roadmap for the country's future within 48 hours.
A dramatic military statement broadcast on state television declared the nation was in danger after millions of Egyptians took to the streets on Sunday to demand that Mursi quit and the headquarters of the ruling Muslim Brotherhood were ransacked.
"If the demands of the people are not realised within the defined period, it will be incumbent upon (the armed forces)… to announce a road map for the future," said the statement by chief-of-staff General Abdel Fattah al-Sisi.
It was followed by patriotic music. The people had expressed their will with unprecedented clarity in the mass demonstrations and wasting more time would only increase the danger of division and violence, he said.
The army said it would oversee the implementation of the roadmap it sought "with the participation of all factions and national parties, including young people", but it would not get directly involved in politics or government.
Anti-Mursi demonstrators outside the presidential palace cheered the army statement, and the main opposition National Salvation Front, which has demanded a national unity government for months, applauded the military's move.
It was the second time in just over a week that the armed forces had issued a formal warning to the politicians, and it appeared to pile pressure on Mursi to concede power-sharing with the liberal, secular and left-wing opposition.