Back in the Day: rainbow flag becomes Gay Pride symbol
Comments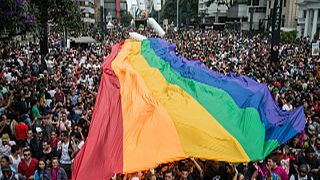 June 25, 1978 The rainbow flag representing gay pride is flown for the first time at the San Francisco Gay Freedom Day Parade. Designed by Gilbert Baker, the colours represent the diversity of the LGBT movement, with the most common variant consisting of six stripes: red, orange, yellow, green, blue, and violet. Thirty volunteers hand-dyed and stitched the first two flags for the parade.
When Harvey Milk, the first openly gay person to be elected to public office in California, was assassinated in November 1978, demand for the rainbow flag greatly increased.
In 1994, for the 25th anniversary of the Stonewall Riots – demonstrations in 1969 by members of the gay community, widely considered as the most important event leading to the gay liberation movement – Baker was commissioned to create the world's largest rainbow flag.
In 2003, Baker was again commissioned to produce a giant flag, this time to mark the 25th anniversary of its creation. The flag produced was 2km in length and stretched across Key West, Florida, from the Atlantic Ocean to the Gulf Coast Sea.
Also on June 25:
1678 – Elena Cornaro Piscopia is the first woman awarded a doctorate of philosophy when she graduates from the University of Padua.
1791 – Louis

XVI

and his family are brought back to Paris after their failed attempt to escape the capital, known as the Flight to Varennes.
1947 – The Diary of Anne Frank, a Jewish teenager's account of two years spent in hiding during the Nazi occupation of the Netherlands, is published.
Born on June 25:
1852 – Antoni Gaudí, Spanish architect who designed the Sagrada Familia church in Barcelona.
1903 – George Orwell, English author and journalist who wrote Nineteen Eighty-Four and Animal Farm.
1963 – George Michael, English musician and one half of pop duo Wham!