'Devastation and sadness' in tornado-weary suburb of Moore, Oklahoma
Comments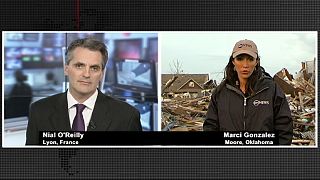 President Obama has tried to reassure the people of Moore in Oklahoma that the United States will stand by them with help on the ground "for as long as it takes" after the calamity of the tornado on Monday, May 20.
Amid the devastation, many survivors are said to be bewildered and stunned – almost unable to take in the destruction to their homes, their schools, their lives.
Some face the anguish of waiting for news of missing relatives and friends.
Euronews spoke to ABC News Correspondent Marci Gonzalez from the scene of the devastation.
Marci Gonzalez, ABC News: "This used to be a neighbourhood here behind me. We can see the homes flattened, residents have been going through to see if there is anything that they can salvage… looking for their pets… and you can see that there is very little left behind here in this neighbourhood and much more of Oklahoma looks like this. There were two elementary schools that were hit hard by this. Some children were killed. In at least one of those schools many others were injured. And at one of those schools we are told it is not longer a search and rescue effort, instead it's a recovery effort. They are not expecting to find any more survivors there today."
Nial O'Reilly, euronews: What is the feeling among the community?
Marci Gonzalez: "Absolute devastation when you think about the number of lives lost and how many of them were children. It's really difficult to explain the level of sadness here. And this is a community that has been through something like this before, there was another major tornado here in this very same town back in 1999."
euronews: This is a tornado zone. How is it possible that houses are built in such way that they can't withstand tornadoes of this force?
Marci Gonzalez: "This was just an extraordinary powerful tornado, but they did have warning systems in place. There were sirens that went off somewhere between 15 and 20 minutes before this tornado touched down and if not for that, maybe it's possible that more lives could have been lost. So at least there were those warnings in place telling people to seek shelter."
euronews: How are the authorities responding now at a state level and at a federal level?
Marci Gonzalez: "There is a tremendous response. On the ground here, we are seeing every level of law enforcement and first responders from local to state… first responders from neighbouring communities have come to help. They go through the rubble and still try to find survivors, so it really is a community effort here."
euronews: Is there hope that anybody will still be found alive?
Marci Gonzalez, ABC News: "As I said at the school, it is just a recovery effort. They are not expecting to find any survivors there. But I would say in the communities they have not given up hope, they are still people going around listening to hear if anyone is calling out from beneath the rubble. And people are still searching for their pets, still hoping to find their pets alive as well."