Mohamed al-Zawahiri: "Westerners 'will burn first' over Mali"
Comments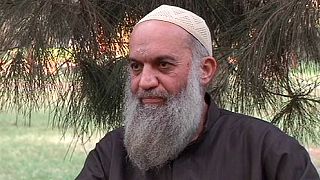 A stark warning for Westerners comes as Mohamed al-Zawahiri, a former senior member in the Egyptian Salafist jihadist movement, speaking to euronews, has condemned French military intervention in the Mali conflict.
He also said the Algerian Army is to blame for the deaths of the many hostages at a gas facility in Algeria.
Our interviewee said his movement is not related to any acts of violence. But his brother Ayman al-Zawahiri succeeded Osama bin Laden as head of the global militant Islamist organisation al Qaeda.
Al Qaeda is an armed Salafist jihadist movement. The brother, Ayman, has a US-25-million-dollar bounty on his head.
Our interviewee denied being a member of al Qaeda but says he agrees with its ideology.
He is said to have spent 14 years in prison on terrorism charges but was ultimately acquitted last year by an Egyptian military court.
Our correspondent in Egypt, Mohammed Shaikhibrahim, spoke with Mohammed al-Zawahiri in Cairo.
Shaikhibrahim asked:
"I understand that you have said that if French military action in Mali continues, the Salafist jihadists will condemn it and call for peace. Do you have no strong message for the French government?"
Mohammed Al Zawahiri said:
"No. As Muslims and not only Salafist jihadists, we must do everything we can… He among us who can speak, will speak. He who can act with his hands, will also. This is aggression. Will I stay quiet if someone comes to attack and kill me? That is unreasonable and unacceptable. France lit the fire; it started the war, and if this continues, the first to burn will be Western people."
Our correspondent then asked whether al-Zawahiri considers that the foreigners who were working in the Algerian gas facility and did not participate in military operations in Mali bore any guilt, saying they were just workers and technicians.
Al-Zawahiri responded with questions: "Who began this war? Who started the aggression? Who is behind the killing of those hostages? It is the country which sent aircraft and troops to Mali."
Al-Zawahiri further alleged that, "the kidnappers did not kill them, but wanted to exchange them to stop the aggression."
He said: "The country's leaders do not want to show what they are in front of their people, so they decided to bomb everyone, a heinous crime."
He said: "Of course it wasn't the kidnappers who killed them, but Algerian forces – on the instructions of the West."
On the basis of this belief, al-Zawahiri organised a demonstration last Friday outside the French embassy in Cairo.
He called for expulsion of the ambassador, the cutting of diplomatic ties and for support for the jihadists in Mali.