Ferrari boss wants better future for his country
Comments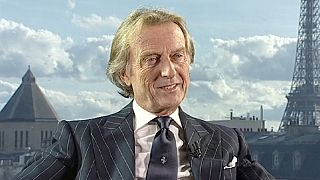 Ferrari president Luca Cordero di Montezemolo was in Paris for the World Automobile Fair.
Euronews spoke to him about the state of the car industry, sports competitions and politics.
Giovanni Magi, euronews:
"Ferrari is one of the few car makers that has overcome the serious crisis affecting the European car market. Is it because yours is a niche market? Or are there other reasons to your success?"
Luca Cordero di Montezemolo:
"It depends on three things: large investments in innovation, which provides us with a range of brand new cars.
"Globalisation – we are now present in 60 countries around the world.
"And customer satisfaction – we make sure those who own a Ferrari feel they are part of a club, it's very personal, they can even have a tailor-made Ferrari."
euronews:
"Your customers probably don't care much about the price of oil. But will Ferraris continue to run on petrol for a long time?"
Luca Cordero di Montezemolo:
"The answer is yes, because I personally don't have much faith in electric cars. But we are working on two fronts.
"First of all – and we can already see the results – with technologies that will enable a significant reduction in fuel consumption. We're talking about more than 30 percent compared to previous models. And also a reduction in emissions.
"Secondly, the hybrid car: by the end of this year, Ferrari will come out with its first ever hybrid model. We use experience gained in Formula 1 with the Kers system, which enables the recovery of clean energy created by the car's braking process (and cars like ours generate a lot of energy). So we are working in this direction, without losing sight of the two essential characteristics: the thrill of driving a Ferrari – which doesn't necessarily mean top speed, but the acceleration and the feeling of power, the passion of driving."
euronews:
"You were president of Fiat for seven years. If you were at the head of a company that produces cars for the general public today, what would you do to address the crisis?"
Luca Cordero di Montezemolo:
"Once they would have called this the million-dollar question, though a million dollars may not mean that much any longer…
"What I would do is one thing I've always tried to do at Ferrari. It may sound obvious but it isn't: make beautiful cars. I believe that any type of activity cannot be separated from the product. You may have a good image, a good financial situation, but the basis is the product. I think this is number one.
"Another thing to do, and it is happening in many automobile companies like Fiat, you have to develop strong partnerships, for components, engines, to cut costs. For Fiat, the partnership with Chrysler – which started under my leadership – not only represents salvation but also an opportunity for growth."
euronews:
"You've probably heard of the controversy in France about entrepreneurs wanting to emigrate for tax purposes. Do you think that the tax burden is a good enough reason to leave your country?"
Luca Cordero di Montezemolo:
"I have to say it is yes, in this sense: it depends on the size, but when acting as an entrepreneur, in a country with such a high tax burden, at one point there is the risk of not being as competitive as other countries.
"Just recently, I said in Italy, that it is fair that those who have more must pay more. It's absolutely fair, because this is normal, it's the right thing to do. But on two conditions: one is that if the state asks citizens to make sacrifices, it must make some first. And the second condition is that the state tells us clearly where our tax money is going. Because if my tax money – and I repeat, it is fair for rich people to pay more – ends up in public spending or fuelling corruption, then I don't agree at all."
euronews:
"Ferrari has been through periods of deep crisis, but has also experienced amazing comebacks and recovery. What is the key to allow a team to overcome even the most difficult moments?"
Luca Cordero di Montezemolo:
"You and your viewers know that winning is not always easy, and to keep winning is even more difficult. Hence, what is needed is: teamwork, determination, to always look forward, innovate, invest in young people, help people evolve from number two or number three to number one. And occasionally, bring in people from the outside, who bring a breath of fresh air, a new culture and a new way of thinking."
euronews:
"Can we venture a prediction for the Formula 1 world championship?"
Luca Cordero di Montezemolo:
"Look, we are now in the lead. I think, and I say it with conviction, that it's up to us to win or lose this world championship. I hope to win it, of course, I think we may have the right conditions, but, as I always say, we're not running alone, we have very strong opponents.
"I also hope, in the last few races, to have a second driver, Massa, who can take away some points from our competitors. Because in the remaining six races, it's not only important for us to do well, but also for our opponents not to do too well."
euronews:
"You are president of the political and economic think-tank Foundation Italia Futura which is actively involved in Italy's 2013 general election. What will your personal commitment be?"
Luca Cordero di Montezemolo:
"The first goal of Italia Futura is to contribute to the renewal of the political class, injecting new people into politics, competent, credible people with a passion for giving and not receiving. This is very important in a political world like ours, that is stuck in its ways and very reluctant to take responsibility for what is happening.
"And the second is to stimulate Italians with fresh ideas and to bring about change, to broaden their prospects, and encourage them to get more involved in their country, for the common good. Along the lines of the French Fifth Republic. I hope that Italy, with its third republic, can do the same as the Fifth Republic in France. But I'm not asking for anything for me, I will not be candidate.
"I want to do something for my country that has given me so much, and I want to continue meanwhile to do a good job, but also contribute to this project in which I really believe, mainly because I have kids, because I love Italy and I realise the extraordinary potential of this country that doesn't deserve to be in this situation."