Venezuela reaches for new tourism heights
Comments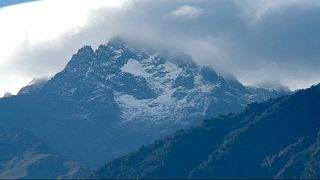 The highest peaks in Venezuela are at the centre of an ambitious re-building programme. As part of an effort to reconstruct the country's tourism industry it will build the Mérida cable car, which is the longest and highest in the world.

Construction at almost five kilometres up in the northern Andes on Pico Espejo takes nerve and precise planning.

Four hundred and fifty engineers work around the clock, battling severe weather conditions and the altitude.

Being in a National Park the project has to be sensitive to the environment, recycling materials and limiting the extent of the works' effects on the surrounding area.

The cable car has to lift its own building materials – up to 2,000 tonnes per trip.

The Venezuelan government is putting 246-million euros into the project.

The tourism development coordinator for the Mérida cable car, Jaime Bautista told euronews:
"Beyond the economic investment, beyond the technological achievement, this cable car aims to create environmental awareness, stimulate visitors to know nature and to enjoy high mountain activities."

The Merida region is a favorite destination for Venezuelans. Tired of tropical temperatures, it is something of an exotic novelty to spend time in the Páramo heights having to wear gloves and woolly hats for a few days.

The new cable car, due to open at the end of 2013 should attract international visitors to Mérida too.

Venezuela's socialist Government has recently approved a new tourism law, aiming to promote sustainable tourism.

Mérida is trying to follow suit by encouraging tourists to enjoy the natural treasures while respecting the environment and learning about their culture.

This new law also encourages villagers to get involved, funding small businesses.

Some established businessman in Mérida are happy with these developments but want better transport links.


Dimitri Duarte the President of Abadía Group and member of Mérida's Chamber of Tourism said: "In Mérida we get an average of three or four flights, sometimes fewer, so there's a capacity problem bringing visitors in and out of Mérida. It's a constructive criticism that we direct at the state authorities, we need to improve the number of flights to Mérida."
The government is trying to get airlines to operate more flghts, but take off and landing in Mérida, surrounded by mountains, is not an easy job. By road it is a 12 hour trip to Caracas.


As gesture of commitment, the Venezuelan International Tourism Fair will be held in Mérida next year. The capital Caracas hosted it this year.

Surrounded by tourism giants like the Dominican Republic, Venezuela has long been the Cinderella of the industry.

The World Tourism Organization's Director for the Americas, Carlos Vogeler told euronews:
"I think that the biggest enemy that Venezuelan tourism has had in the past is oil. Because it made such an enormous contribution to the country's bank balance it put other kinds of economic alternatives in the shade. But oil is not an enemy anymore and there's more attention being given to tourism."

Venezuela's Tourism Minister said the government has turned to what he calls 'Green Oil'. A mainstay of the new law is making credit easier for the tourism business.

Alejandro Fleming told us: "The cost of borrowing for tourism entrepreneurs is down to 10.5 percent thanks to the new law. That's a very attractive rate in Venezuela, and it could be as low as 7.5 percent in tourist areas. In 12 years we have increased the number of tourism companies from 3,000 to 14,000."

There has been a concerted effort to bring tourism to the capital Caracas too.

Once known as one of the most violent cities in the world, authorities are training city tour guides and have deployed the so-called 'Heritage Guard' to monitor the city centre.

Mérida photo Gallery


Useful links:

Venezuela Cable car Company:
Venezuela Tourism Office:

www.venezuelaturismo.gob.ve

State owned tourism operator Venetur:

www.venetur.gob.ve