Ukraine gives racism the red card
Comments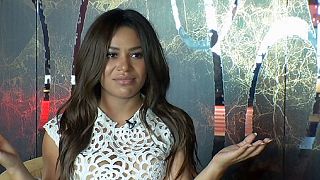 Lviv, one of Ukraine's host-cities for Euro 2012, is well-known for its architectural beauty, cosy cafes and authentic coffee.
Supporters of the local football club, Karpaty, are considered to be among the most patriotic and passionate fans in the country. Sometimes however this passion – for football, their club and country – turns from national pride and patriotism to xenophobia and racism.
Taras Pavliv is the head of the public association "Forever Faithful", and more informally one of the leaders of the fan movement of Karpaty Lviv. Commenting on the scandal of racism in Ukrainian stadiums which was recently reported in the European media, he admits that racism does exist, but says the scale has been exaggerated by journalists.
"There is racism at matches. At all matches whether in Ukraine, or elsewhere in the world. There are some displays of it in Lviv as well. One of the reasons for this is that some youngsters confuse nationalism with racism. It's a very thin line which is all too easy to cross. Ukrainian fans mostly limit themselves to hand gestures, but in Europe – France or England – it is much worse, with beatings and killings. We don't have the same level of violence compared with the rest of Europe," he said.
Another fan of Karpaty, Andriy Markovec, says he saw how foreign media distort the facts when his British friends sent him a video that had aired on British television:
"Every summer fans from the whole of Europe come to Lviv to take part in a friendly football tournament. I got the link to a report of it on British TV from my friends from Liverpool, who had visited Ukraine several times and liked it. They were laughing saying 'look, it appears that it's too dangerous to go to Ukraine."
There are those who believe that there is a problem in Ukraine who think there is a bigger problem however, such as human rights activist and leader of the project "No Borders" Maxim Butkevych. He says that foreigners, especially from Africa, can still from time to time can get into trouble in the country:
"I've just returned from a trip to another city in Ukraine, where there are many foreign students. One of them told me – and others confirmed it – that the first Russian word that they learn here is "obezyana", it means "monkey".
Maxim acknowledges that while verbal insults happen often, physical racist attacks are less common. To give exact figures is difficult as there are no official statistics of such incidents from Ukraine. The only records are from NGOs.
Mridula Ghosh is a human rights activist and Chairman of the East European Development Institute. She believes that as Ukraine has a much lower percentage of immigrants than many other European countries, to talk about racism is wrong. She says racism is a rejection of certain groups of people, but in her opinion, Ukraine has a different problem, xenophobia.
"Xenophobia becomes apparent when people know very little about the outside world. So, how people look, people with unusual appearance – from Africa or like me – can provoke some emotions. Sometimes it's surprise and curiosity, and they come and ask questions, and talk. But sometimes people are hostile. It depends on how cultured they are."
Popular singer in Ukraine, Gaitana was born and spent first 5 years of her life in the African republic of Congo. This year she won the right to represented Ukraine at the Eurovision song contest, she says racism is not such a problem in Ukraine:
"That was one of the reasons why I decided to go to Eurovision, to prove that here everyone without exception has opportunities for a happy life. I was born in mixed marriage, I have African and Ukrainian roots. This proves the level of racism in Ukraine is no higher than anywhere else in the world. So guests of Euro 2012 should feel completely safe here."
Euronews spoke to three black South African students who are in Lviv to watch the football. They agreed with Gaitana and said those who were scared and decided not to go to Euro 2012 made a huge mistake:
"I mean nothing happened to us, people are so kind. There is nothing wrong with the place. These allegations I heard from the British media, I am not so sure. Nothing has happened it is pretty safe and there are police everywhere."
Since the start of Euro 2012, the overall atmosphere on the streets of Ukrainian host cities seems to have been one of happiness and celebration, except for fans of losing teams of course. But most importantly there are many reports that racism is not as big a problem as first thought.