Football: Kick-starting education
Comments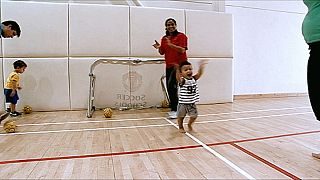 Football tops most lists as the most popular sport in the world today. So this week in Learning World we take a look at how the beautiful game can be used as a tool for education.
France: The values of football
One of France's biggest teams, Paris Saint Germain, runs the PSG foundation, which helps thousands of children and young adults every year. Some come from troubled backgrounds while others may have disabilities.
The foundation is working hard to give people confidence, and teach them the values of football; respect, fairplay and the joy of competition.
Dubai: Toddlers on the Field
Dubai sports city is home to Socatots, the world's first soccer specific play programme for pre-school children. It is aimed at children from the age they can walk up until five-years-old and hopes to aid them in education.
This parent-child project strongly believes that children who are physically active from a very young age are more likely to concentrate in the classroom, a philosophy which has encouraged many families to take part.
Rwanda: Winning with Grace
In Kigali, the Rwandan capital, we meet Grace Nyinawumuntu. She has fought hard against Rwanda's traditional and conservative culture which says women do not play football, and has now risen to coach a championship winning female side.
She was much helped by AKWOS, (The Association of Kigali Women in Sports) which was founded in 1997 – just three years after the genocide that killed 800,000 people in the country. Football here is used as a means of education and reconciliation as well as gender empowerment.