Russia hails beginning of end of Syrian conflict after talks with Turkey and Iran
Comments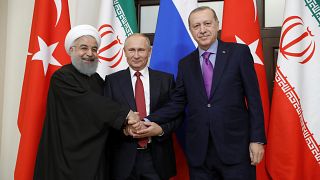 Russia has gained the backing of Turkey and Iran in a fresh push for peace in Syria. The leaders of the three countries met in Sochi, where they agreed Russia would host a congress considered a major diplomatic move towards ending the more than six year-long civil war.
"Large-scale military action against terrorist groups in Syria is coming to an end," announced Russian president Vladimir Putin. "I will point out that thanks to the efforts of Russia, Iran and Turkey, we have managed to prevent the collapse of Syria."
The three nations called on Moscow's ally Syrian President Bashar al-Assad and moderate opposition groups to "participate constructively" in the planned talks.
Turkish President Recep Tayyip Erdogan added: "The point we have reached is important, but not enough. It is critical for all concerned parties to contribute for a permanent and acceptable political solution for the people of Syria."
Putin said the congress would consider all the key questions on Syria's national agenda, including the future structure of the state, the adoption of a new constitution and holding elections under UN supervision.
The civil war has cost at least 400,000 lives and displaced millions of people since 2011. Russia officially entered the conflict in October 2015 to support embattled president Bashir al-Assad whose forces, assisted also by Iran, have since regained control of significant portions of the country.