Talk, walk and learn with the animals
Comments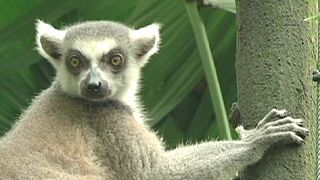 Learning with animals is one educational method that can offer a sound teaching technique. But what can children learn from animals? To find out, this week Learning World heads to Switzerland, Singapore and Ireland for a close up on education and the animal kingdom. 
At school with "Thabo", Switzerland
When Alexandra Wolf goes to work in the Swiss Alps, so does her dog, Thabo. Together, they teach in a nearby primary school – with extraordinary results. The experiment began when Alexandra got permission to bring her dog to school three years ago and the result is far from disturbing. Having Thabo in the classroom actually improves concentration.
Alexandra Wolf explained: "There are many positive results from the relationship between the children and Thabo. They are also confirmed by science. Recent research concluded that when children play with and pet a dog, their brains produce a hormone called oxytocin. That's why they are quieter, more attentive, react better to stress and show more strength."
Having Thabo around even helps the children learn German grammar – not an easy task at the best of times. One of the pupils, Thomas, explained: "Take the verb to play: I play, we play, you play, they play. Then I take the name, Thabo, this is the verb play, which changes, and this is the name, Thabo…"
Headteacher Martina Ammer showed us a report signed by the parents of children involved in the Thabo project and said: "It's very positive feedback. There's one case in particular, a child with some behaviour problems in the classroom. It's all solved now. Thanks to Thabo, the child is much more aware of himself and mindful. It's proof that even integration is easier using this new approach."
For more information see: http://www.usask.ca
Living classroom, Singapore
The Singapore Zoo has developed dynamic and interactive educational programmes. Now subjects like maths and sciences can be very exciting and inspiring, especially when animals are involved.
Singapore has one of the biggest zoos in the world which covers around 70 square kilometres. It has won many awards for excellence and runs a full educational programme called 'Living Classrooms' which uses an exciting mix of interactive in-park activities – a bit like going to school in the middle of a jungle.
Education Programme Director May Lok said: "Everything is alive, and you can learn anything and everything. You can learn sizes, you can learn maths, you can learn Chinese: all the different disciplines, even wildlife, art, performing arts. So the role of the zoo has been evolving and we feel that with the animals, we can excite the children. When they are excited then learning comes naturally."
Special smart phones contain video clips showing zebras escaping attacks or cheetahs running at top speed, so the children learn about the animals just a few metres away from them.
Animals can teach a wide range of subjects: in one workshop, called 'Mad about Elephants', children learn concepts of size and weight, and how to make comparisons. In another workshop, they learn about domestic animals.
'Living Classrooms' also teaches about biodiversity and the interdependency of nature's flora and fauna.
While some animals can improve learning, others can have a more healing effect, dealing with psychological and behavioural problems.
Equine therapy, Ireland
At a centre for Equine Assisted Therapy and Learning, just outside Limerick in Ireland, the aim is to help young people with relationship difficulties and attitude issues to get to the root of their problems and try to solve them.
The therapist at Tory Hill Farm, Clare Quinn O'Connell, said: "The horse actually, naturally produces respect from these youngsters, because the horse is a huge animal. It is a very big powerful animal. It is necessary to respect the horse."
Two boys from traveller communities, who have both been in trouble with the police, have been put into this programme in a last-ditch effort to prevent them from dropping out of school.
Declan Dennehy, from "Foróige" (Ireland's leading youth organisation) said: "We had one young person and one of his comments was that he found the two facilitators that run the programme to be a little bit strange. And when I queried that with him, what he meant by strange was these people for the first time in his life, showed an interest in how he felt, and what his opinions were, and this meant an awful lot to this young person."
Horses teach young people to project calmness and trust. They also teach the importance of cooperation and creative thinking.