UNICEF supports schools around the world
Comments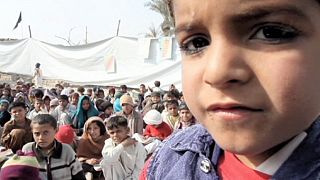 For more than six decades, UNICEF has been working for the welfare of children around the world, especially in developing countries. This week we turn our attention to the UN body's efforts to make the world a better and safer place for young people.
UNICEF is particularly active in Africa, where it strives to raise education standards and help underprivileged kids reach their full potential.
The wealth gap in South Africa is huge and for the children at the very bottom of the heap, even just getting an education is a major challenge. But things are slowly changing because UNICEF is refurbishing schools across the country.
The UNICEF 'Schools for Africa' programme aims to improve education for around one million students. UNICEF provides care centres for orphans and vulnerable children, and access to clean drinking water and toilets. It also gives additional training to 27,000 teachers.
Civic education is designed to help children understand the differences between tradition, culture, superstition and fact. It also encourages respect between boys and girls.
For more information see www.schoolsforafrica.com
UNICEF faces many challenges, including achieving the ambitious millennium development goals it set itself for 2015. Critics are sceptical that the organisation can succeed, but its Executive Director Anthony Lake, said that "Where there's a will, there's a way.
He told euronews: "I think it is certainly too early to talk about successes and I certainly would rather not talk about regrets. I think that the greatest challenge we face – and actually the biggest opportunity we face – is to concentrate all the more on the most disadvantaged children around the world. And I think the point is obvious when it comes to health, but it doesn't achieve enough attention when it comes to education.
"I think education is getting more and more attention. In part because of the millennium development goals and the concentration on getting universal primary school coverage. But what I think is not getting enough attention is the question of equitable education.
"It is a tremendously important question because I think we tend to concentrate more on programmes: more school buildings, more teachers, more material, more this, more that, when what's so important is what's in people's minds. You don't change attitudes by referring to international treaties. You change attitudes more, I think, through local community, through local leaders, who would say: 'Wait a minute, we need to get our girls into school! Wait a minute, this mutilation has got to stop!' You do it more through the local networks of people than by going and lecturing them and telling them that they are evil."
Equality in education is one of UNICEF's main goals. At one flood-hit village in Pakistan, UNICEF staff are trying to change a community's mindset. They believe that while the torrent has destroyed the school, it may also have swept away old attitudes to girls' education.
Last summer, the village school was flooded out, and now the building has been condemned as unsafe. But maybe the flood has provided an opportunity for change?
Karen Allen, UNICEF's Pakistan Deputy Representative said: "We saw a real birth of motivation in the little girls but also in the parents, who began to say: 'Oh well, maybe we should consider sending our girls to school, because look how happy it made them and they were really learning useful things.'
As Pakistan reconstructs after the floods, hopefully the future will hold education for many more children.