Adult literacy - the right to read
Comments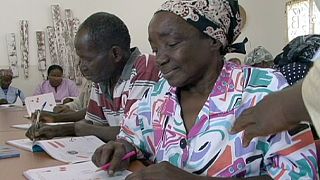 While some governments are taking measures to abolish illiteracy it remains one of the biggest challenges of the 21st century. In Mozambique where nearly half the population cannot read and write, the government is trying to increase literacy rates and the country's First Lady has taken a lead in raising funds and boosting the political will to ensure the right to education – particularly for women.
At a school in a small village in northern Mozambique, local women go four days a week to learn the reading, writing and mathematics. Traditionally in Mozambique, girls used to be kept at home to help with housework and to look after younger siblings. But now they are making up for lost time.
Literacy has been a top priority for the government since 1975, when the country gained its independence. At that time the adult illiteracy rate was 93 percent but now it is down to around 50 percent.
The 'First Lady Movement for Literacy and Adult Education' lobbies for women's right to education. The country's First Lady, Maria da Luz Dai Guebuza, believes that mothers are the front line in combating illiteracy.
The women work hard at their lessons and their efforts are paying off. Even with basic literacy skills, it is easier to get medical care, information about HIV, and birth certificates for their children for example. For thousands of women, literacy means a new start. Even something as simple as buying or selling goods at the market becomes easier.
In the Spanish city of Seville a group of Roma women managed to improve their literacy problem through studying plays. Inspired by Lorca, Rocio Montero, who did not know how to read and write, is now the leading actress in 'The House of Bernarda Alba'.
The women rehearsed by repeating the lines read out to them by helpers for two months.
Pepa Gamboa, the director of the play, said: "We looked for parallels, improvisations based on their own lives, making them coincide with the lives of the characters in the play. And it was interesting to see that as they improvised about their lives, they found words that were very close to the script."
Putting on the play has changed the way the women see themselves. Before, the younger ones more or less knew the alphabet. They could read a few words from a text, but it did not really make sense to them. But now, they want to start learning again, they want to pass their driving tests and become more independent.
Furthermore, this is the first time these women have earned any money. Now, they aim to look after their families and be respected.
Washington DC, capital of one of the most powerful countries in the world, is known to have a high rate of illiteracy. Learning World visited one of the city's oldest schools for adults, the Washington Literacy Council. Surprisingly, Washington DC has one of the highest rates of adult illiteracy in the USA: It is estimated that up to 36 percent of its inhabitants are "functionally illiterate".
The Washington Literacy Council was founded more than 40 years ago. Most of the students are Afro-American, male, and middle aged with the average reading age of a nine-year-old. They can read simple words but cannot fill in a job application or read the newspaper.
Some students have dyslexia, others do not have English as a mother tongue. Some come from families with drug or alcohol addictions. Teenage pregnancy is another hurdle. These problems increase with poverty and Washington is one of the poorest places in the USA.
William West, a student at another adult literacy class called Literacy Volunteers and Advocates, explained the value of the programme to people like him: "When you can't read or write, everything is a puzzle for you. You can't go to a supermarket, you can't pick up a book. You can't catch the bus, you can't catch the train. If you get lost you don't know how to get yourself back on track when you don't know how to read and write."