Music school hits the right note
Comments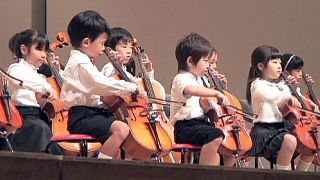 Music is a universal language. Singing, playing, listening, appreciating – all of it enriches young people, boosts their learning skills and deepens their understanding of history and culture. In Japan some children learn to play using the Suzuki Method. Teachers there say it can help even the tone-deaf to strike the right note.
Suzuki students are not necessarily particularly gifted or exceptionally talented. The Suzuki Method uses an approach which combines music tuition with a philosophy of life.
It was developed in the mid-20th century by a violinist called Shinichi Suzuki who defined it as 'character first, ability second.' He realised that anyone can learn music in the same way they learn their mother tongue – through listening, imitation and repetition.
Parents are also heavily involved in the method. They are expected to take notes during the lessons and help the child practice at home. The Suzuki Method is not aimed at producing large numbers of professional musicians, its value is in using kindness and patience to produce adults who know how to listen, how to be tolerant and how to recognise beauty.
For more about the Suzuki Method see
www.suzukimusic.org.au/suzuki.htm
Classical music is often seen as beyond the reach and interest of ordinary people. But it does not have to be, as students at the Huancavilca Foundation in Ecuador show. Many are from humble backgrounds but that has not stopped them flourishing as key players in their orchestra.
In Ecuador, many boys spend their free time playing football or listening to reggae. But more and more of them are getting into classical music because of a music school which opened eight years ago. Many parents disapproved of their children learning music at first. But when they see their youngster's passion and go to see them playing in an orchestra, they change their minds.
Two years ago, the students founded their very own symphony orchestra which now plays regularly at national festivals. Financial donations keep the school going – all they need now are more donated instruments.
Music is much more than entertainment. It can build confidence and ambition. Reshma is a student at the Kalkeri School of Music in Dharwad in southern India. The school day starts with an hour of meditation and prayer.
Founded in 2002, the Kalkeri School provides food, accommodation, health care and clothing as well as education – and it is all free. There are 160 students, including 13 year-old Reshma. She says she hated her last school but now loves learning. Each student is taught music for three hours a day, six days a week.
The children learn singing, harmonium, sitar – all kinds of melodies and all kinds of instruments. They also study English, maths, science and yoga.