Compromise climate deal sparks fury at Copenhagen
Comments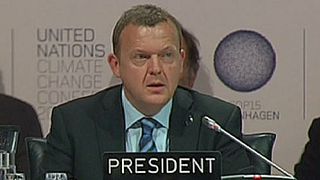 It is a meaningful agreement for some – Barack Obama included. But the last minute climate deal clinched in Copenhagen has been widely criticised as an unambitious, face-saving sham.
After two weeks of talks, several developing nations rejected the draft accord struck by the US President and major emerging economies.
Not legally binding, it sets a goal of limiting temperature rises to below 2 degrees Celsius. But measures for achieving that target are not laid out.
European Commission President Jose Manuel Barroso said: "I will not hide my disappointment regarding the ambition in terms of the binding nature or non-binding nature of the future agreement. In this particular point, the text agreed today falls far short of our expectations."
France's President Nicolas Sarkozy said the accord was not perfect but the "best one possible."
Amid tensions between the US and China, the two nations struck a deal with India, South Africa and Brazil. Slammed as unfair, its targets in controlling global warming fall far short of vulnerable island nations' demands.
Greenpeace France director Pascal Husting said: "This is a disaster. This basically represents several steps backward in comparison with Kyoto. There is no substance in this…. there is no longer any reference to science."
To become a UN pact, the deal must be adopted unanimously by all 193 nations at the talks.