Zimbabwe: Tense but quiet, a day after violence broke out Wednesday
Comments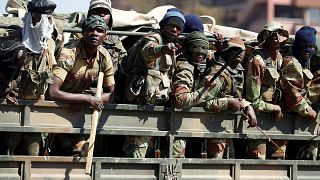 The streets of Harare are quiet and shops are closed a day after three people were fatally shot during protests and battles.
The Movement for Democratic Change (MDC) party are being blamed for the violence.
It's after they celebrated when they thought they'd won the election.
Saturday is the deadline for the final announcement for the presidential outcome.
Soldiers warn people to close their businesses. It's a tense situation.
Abraham Zimunya is a Harare resident and he says, "The election results are not being announced properly. They have delayed and the figures don't tally with the numbers on the biometric voter registration, and this is what's caused the protests."
Graham Pakai is a resident in Harare and he says, "We ended up having to lose people's lives. That is not good for the country. If there are demonstrations then they have to be peaceful for the country, so that we move on as a nation and we progress in peace and tranquillity."
Much of the city centre resembled a war zone on Wednesday. Riot police were at the ready. military helicopters flew overhead. Water cannons were used to disperse the crowd.
Meanwhile the Commonwealth Observers mission condemns the 'excessive' force by Zimbabwe security services.