Several thousand jobs to go at Tesla
Comments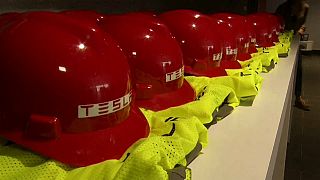 Several thousand jobs are set to go at the electric car maker Tesla.
It's looking to reduce costs and become profitable without endangering the critical production ramp-up for its Model 3 sedan.
Tesla's been trying to hit a 5,000 per week production target for the 3, after facing initial production hiccups.
A spokesman says it will reduce overall employment back to around 37,000 which is roughly in line with last year's numbers.
The company's shares had fallen by around 35 percent at the start of April.
But signs it'll meet its target with the Model 3 vehicles have wiped out almost all of this year's losses.