World Cup Russia 2018: How to follow France
Comments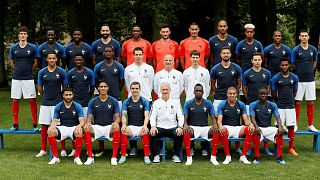 Is your team not going to the 2018 World Cup? Want to become a fan of another team? Or do you want to get to know your enemies? Euronews can help with our basic toolkit for the French national team.
Full name: Équipe de France de football
Nickname: Les Bleus (The Blues), Les Tricolores (The Tri-colours)
Emblem: le coq gaulois (Gallic rooster)
Supporters nickname: there is no real term for French supporters in general, but there is Irrésistibles Français, the main group of fans.
HQ during the 2018 World Cup: Istra, about 50 kilometers west of Moscow.
Chanting:
"Allez les Bleus" (Let's go Blues):
"Qui ne saute pas n'est pas français" (Who does not jump is not French)
"On est les champions" ("we are the champions")
And, obviously, the national anthem, "La Marseillaise"
Key Supporters' language:
Goal: but
Offside: hors-jeu
Game: match
Foul: faute
Free Kick: coup franc
The referee is blind: "Mais, il est où l'arbitre, mais il est où" (where is the referee, where is he ? " and, a bit vulgar, "aux chiottes, l'arbitre, aux chiottes" (to the toilets, referee, to the toilets!)
Cheat: "Il a plongé !" (he has dived!)
Can we play you every week?: "Vous êtes de chèvres" (you are goats!)
Superfan:Clément d'Antibes and his rooster "Balthazar"
Worst moment in World Cup history
Semi-final in Seville 1982: France suffered defeat against West Germany. It was a dramatic scenario, 3-3 at full time, before West Germany won 5–4 on penalties. The game is also known for the collision between the French player Patrick Battiston and German goalkeeper Harald Schumacher, "a tragedy in the modern history of France".
There is also the non-qualification for the 1994 World Cup: In the final qualification match against Bulgaria, France were eliminated by an Emil Kostadinov goal in extra-time.
And how could you forget Zinedine Zidane's head-butt in the final of the 2006 World Cup in Germany.
The most pitiful episode of all: "The mutiny of Knysna", French players went on strike in their bus during the 2010 World Cup in South Africa.
Best moment in World Cup history:
A 3-0 victory at home against Brazil in the 1998 World Cup final meant that France became World Champions for the first and only time.
Players to follow: Antoine Griezmann, Paul Pogba, Samuel Umtiti
On social media:
Most common hashtags:
#FiersdetreBleus, #Bleus, #CDM2018
Active French players on Twitter:
During games:
Former players on Twitter:
Former coach:
Journalists: