World Cup Russia 2018: how to follow Germany
Comments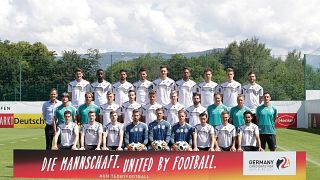 Is your team not going to the 2018 World Cup? Want to become a fan of another team? Or do you want to get to know your enemies? Euronews can help with our basic toolkit for the German national team.
Full name: deutsche Fußballnationalmannschaft
Nickname: Die Mannschaft
Emblem: coat of arms of Germany (Bundesadler)
Supporters nickname: none
HQ during the 2018 World Cup: Vatutinki (south of Moscow)
Chanting:
Deutschlaaand, Deutschlaaand
Steht auf wenn ihr Deutsche seid! (Get up if you're German)
Key Supporters' language:
Goal: tor
Offside: abseits
Game: spiel
Foul: faul
Free Kick: freistoß
The referee is blind: der Schiri ist gekauft! (referee has been bought)
Cheat: schwalbe
Superfan: Armin Hollensteiner, drives around the world due to fear of flying - and a passion for travelling.
Worst moment in World Cup history
"Humiliation of Cordoba": In Argentina 1978, the defending World Champions, Germany, lost to Austria 2-3 and were knocked out in the second round.
Also, in 1998, Germany were the favourite team, but lost 0-3 to Croatia in the quarter-final.
Best moment in World Cup history:
"Miracle of Bern": West Germany defeated a highly favoured Hungary team 3-2 in the final of the World Cup in Switzerland 1954. The game is widely regarded as, not only one of the best World Cup games in history, but also one of the biggest upsets in World Cup history.
Germany qualified for the World Cup Final in 2014 with a 7-1 victory against Brazil, in Brazil's home World Cup.
Players to follow:
Thomas Müller - He could become the 2018 World Cup's Best Player. He is in top condition and played a great season in the Bundesliga.
Manuel Neuer - was injured for a long time but carries the hopes of German fans and is widely regarded as the best keeper in the world.
On social media:
Most common hashtags: #WM2018#ZSMMN (for "zusammen"/ together) #DieMannschaft
German players active on social media - to follow during World Cup
Sami Khedira
Thomas Müller @esmuellert_
Antonio Rüdiger @ToniRuediger
Jerome Boateng @JB17Official
Toni Kroos @ToniKroos
During games
The unofficial "Mannschaft" song
feat. Jérôme Boateng and Jack Whitehall
"England and Germany join forces"
Fun fact
Trainer Jogi Löw loves chocolate. He used to eat up to four bars of chocolate a day.