Boston Celtics crush Milwaukee Bucks
Comments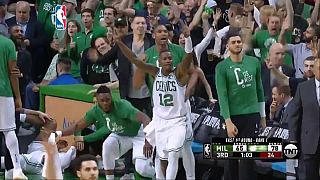 Not even the Milwaukee Bucks' star player Giannis Antetokounmpo could stop the Boston Celtics improving on their impressive history in game seven...... crushing Milwaukee 112-96 to advance to a second round series against Philadelphia.
Al Horford and Terry Rozier rode the home-court advantage, scoring 26 points apiece, to help eliminate the Bucks from the playoffs.
The Celtics never looked back after a 30-17 opening quarter...... advancing to the Eastern Conference semi-finals for the second straight year.
Milwaukee has advanced from the first round of the playoffs just once since 1989, losing nine straight playoff series since the Eastern Conference finals in 2001.
The Celtics will meet the Philadelphia 76ers, with Game 1 in Boston on Monday night.