Puigdemont takes comfortable lead on defecating figurine sales
Comments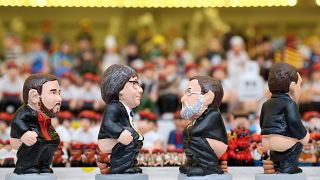 Sales of Catalan President Carles Puigdemont "Caganer" figurines, the defecating tiny figures traditional to Catalonia's Nativity scenes are "sweeping", according to one of the main manufacturers. Sergi Alós, commercial director for caganer.com, explains that for the first time they are selling many of the handmade figurines across the rest of Spain—and mainly of the sacked Catalan president, who is now in self-imposed exile in Belgium to avoid sedition and rebellion charges.
Being a "caganer" is actually a honour

Manufacturer
Next in the sales ranking comes the figurines of CUP leader Anna Gabriel, Albert Rivera (Ciudadanos), Pedro Sánchez (PSOE) and Prime Minister Mariano Rajoy of the People's Party.
Alós explains they didn't have time to prepare figurines for the regional candidates, including Inés Arrimadas (Ciudadanos), Miquel Iceta (PSOE) and Xavier Albiol (PP), due to the short notice of the snap election called by Rajoy.
Jailed activists Jordi Sanchez and Jordi Cuixart, and the sacked chief of the Catalan Police Josep Lluis Trapero, are also among the top figurines sold.
Alós says the "caganometer", an informal poll decided by the sale of the figurines, is used to predict elections for fun. Last year it predicted the victory of Donald Trump in the U.S. presidential election. Sales were boosted by a report in The New York times.
Despite being pictured with pants down, the figurines are not mocking the person depicted, says Alós, adding that it's actually an honour. Alós' family company has been manufacturing and selling the Caganers for 25 years. Last year they presented the figurine of Puigdemont to the Catalan leader himself. 
The traditional Caganer figurine is of a Catalan peasant defecating. It's placed in different points of the Nativity scene during the Christmas period to "fertilize" and bring luck for the new year, according to traditions from Catalonia and Valencia dating back to the 17th century.
It has since evolved to honour public, private and fictional figures, including Princess Leia and Darth Vader.
Catalan demonstrators —and even ballot boxes from the independence referendum —are also featured as Caganers.