Russian LGBT activists arrested during march against 'killing and torture' of gay men in Chechnya
Comments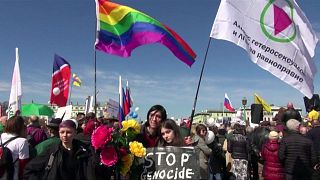 Human rights activists have taken to the streets of the Russian city of St Petersburg to protest against the alleged detention, torture and killing of gay men in Chechnya.
The LGBT march comes after Novaya Gazeta reported last month that authorities in the majority Muslim republic rounded up over 100 gay men, or those suspected of being gay, and tortured them. It is claimed at least three were killed.
One protester said:"Authorities in Chechnya deny these people help, they even deny they exist and deny the problem exists, and we are against it."
Russia's Interfax news agency says a spokesman for Chechen leader Ramzan Kadyrov refuted the alleged abuses.
Investigators say they are looking into claims that threats have been made against newspaper Novaya Gazeta following April article.
The LGBT protest in St Petersburg saw several people arrested.