Kyrgyzstan opposition politician arrested on corruption charges
Comments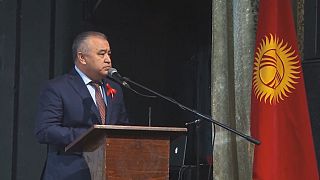 Kyrgyzstan's state security service has arrested opposition politician and presidential hopeful Omurbek Tekebayev on corruption and fraud charges.
The 58-year-old, who leads the Ata Meken party's parliementary faction, is an outspoken critic of President Almazbek Atambayev, whose term is due to end this year.
Kyrgyzstan arrests opposition leaderhttps://t.co/8auPouUBUspic.twitter.com/I1mCwmZm2T

— Press TV (@PressTV) February 26, 2017
He is accused of taking a $1 million bribe from a Russian telecoms tycoon in 2010, promising the investor that he would be able to take over a local company.
At the time, Tekebayev, who denies any wrongdoing, was a senior member of provisional government.
Kanybek Imanaliyev, a member of parliament who belongs to Tekebayev's party, said: "He considers his detention unwarranted and illegal and a continuation of political repressions."
"We planned to hold a party congress within a within a month an nominate him as a presidential candidate."
Atambayev, the current president, can't run for re-election in November, however his allies in parliament successfully pushed through reforms boosting the powers of the Prime Minister – a change that Tekebayev openly criticised.
It has been suggested that he may run for the position after his term ends, or install a loyal figure in the role – rumours which the president denies.