Battle for Mosul and ISIL's use of human shields
Comments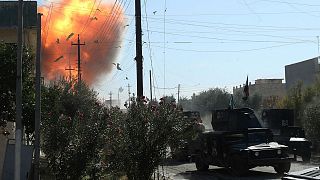 In the month since an Iraqi forces-led operation began to liberate Mosul from so-called Islamic State (ISIL), more than 47,000 people have been displaced.
The group has reportedly been using civilians as human shields. Many caught fleeing Mosul, like Ahmed, have been tortured.
"I tried to escape from Mosul, but I was caught in Qayyara," he explained. "They tortured me and asked, why do you want to leave the caliphate and go to the land of the infidel?"
ISIL fighters use various tactics as well as using human shields, such as tunnels and car bombs, to prevent the advance of the Iraqi army.
But Iraq has its own strategy to keep civilians from getting in harm's way.
"There haven't been very many evacuees so far," said Diya'a Salal, director general, Department of Branches, Ministry of Displacement and Migration, Iraq. "The main reason for the small number is the strategy adopted by the security forces. The Iraqi security forces advise civilians to stay at home and evacuate only when necessary or in case of an emergency."
The Iraqi government has already put up about 10,000 tents in more than 10 camps with help from the United Nations.
According to Iraqi estimates, the battle for Mosul could see the number of evacuees increase to over 300,000.
Mosul is divided by the Tigris river that runs through its centre.
Iraqi forces have captured several areas in the east of the city, however the narrow streets and alleyways of western Mosul are expected to witness much tougher urban warfare.
"The west bank [of the Tigris] is more populated than the east bank. Therefore, as military actions proceed, the number of evacuees will also increase," added Salal.
The battle for Mosul, the capital of so-called Islamic State's self-proclaimed caliphate, is likely to last for months and may leave up to one million civilians displaced.