Muslims have held prayers next to the Colosseum in Rome to protest against a shortage of mosques.
The lack of officially-registered places of worship for Italy's more than 1 million Muslims has led to many using unofficial venues such as private homes.
Critics say this makes them difficult to monitor and can foster radicalisation.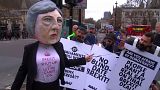 Demonstrators stage a protest outside of the Houses of Parliament ahead of the British PM Theresa May, triggering Brexit with Article 50.