No new eurozone stimulus measures from the ECB for now
Comments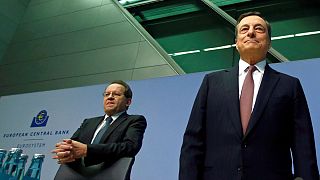 There was no fresh stimulus from the European Central Bank at its latest policy meeting in the face of high unemployment, weak growth and the threat of deflation in the eurozone.
ECB President Mario Draghi – who has slashed interest rates into negative territory and is printing money at a fast pace – will have to come up with more measures to get the currency bloc's economy moving again given that the Bank's latest economic forecasts show continued weak growth.
Draghi: Sept projections: annual real GDP +1.7% in 2016 [June: +1.6%], +1.6% in 2017 [+1.7%], +1.6% in 2018

—

ECB

(@ecb) September 8, 2016
Monetary policy decisions: rates unchanged https://t.co/7qVsHJVRxf

—

ECB

(@ecb) September 8, 2016
It is pumping 80 billion euros a month into the economy by buying bonds, a programme which is due to run until next March. On Thursday it said that scheme could be extended if inflation shows no signs of rising.
The problem for the ECB is that it is running out of means of stimulating the economy.
At his news conference, Mario Draghi said the Bank is studying how it might potentially change its asset-buying programme.
Draghi said the ECB's policymakers had decided to ask various internal groups to study possible changes: "The Governing Council tasked the relevant committees to evaluate the options that ensure a smooth implementation of our purchase programme."
He did not say what would be studied but there has been past speculation about such things as raising the limit on how much of each bond issue the ECB can own, buying bonds yielding less than the bank's -0.4 percent deposit rate or extending the range of eligible bonds.
Bigger changes could involve the purchase of new types of assets, like bank bonds, non performing loans or, in the extreme case, companies' shares.