ISIL says it targeted Kurds in car bomb in Qamishli, Syria
Comments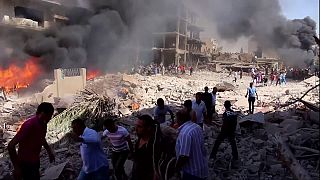 A huge car bomb exploded near a Kurdish security forces headquarters on Wednesday (July 27) in the Syrian city of Qamishli in Hasaka province.
At least 48 people were killed in the blast which was so powerful that witnesses said it shattered windows across the Turkish border.
The so-called Islamic State (ISIL) said it was responsible for the explosion and that it had targeted Kurdish forces.
The Kurds control much of Hasaka province after capturing it from ISIL fighters last year.
It is not the first time the militant group has targeted the area. A suicide blast killed six members of the Kurdish security force in April.
In July, an ISIL suicide bomb killed at least 16 people in Hasaka.