The future of the European Union after Brexit
Comments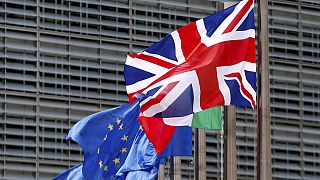 The day after the UK voted to leave the European Union a journalist asked the President of the European Commission Jean Claude Juncker if it was the beginning of the end of the EU.
"No" was his blunt answer and he left the press conference.
It was a question which visibly angered him. No, Europe is not dead, Europe will survive this crisis.
But details of a development plan and the way forward are scant, so too are the terms for the bloc to survive.
Much was expected to come out of the first session of the European Parliament after the Brexit vote. Instead there was that hug with Nigel Farage, a few piques of temper and some generalities.
"We must change all yes, but it must not change the essential and the essential is that Europe remains a peace project and a project for the future. This is what I pledge to this Assembly," said Jean Claude Juncker.
But what to change and how? What about the plan B of the institutions? It is certain that nobody in Brussels had wanted to consider this scenario where there is now a sense of a vacuum.
"One could feel the insecurity about how we should proceed from here in the coming weeks and months. And there was also a feeling that we would need a fundamental discussion about the future of the European Union now with her 27 member states," said Martin Schulz, President of the European Parliament.
The future of an EU with 27 member states. The future of Europe. Such statements raise a host of questions not least will there be a new treaty. Will the shock of Brexit call into question the governance, the future of the institutions?
What will be the driving force behind the EU membership which more and more citizens of the continent seem to reject?
"It is an historic moment for sure, this is not a moment for hysterical reactions. I want to reassure everyone that we are prepared also for this negative scenario. As you know the EU is not only a fair weather project," stressed Donald Tusk, European Council President.
In theory nothing prevents the European leaders from holding back on their plans for the future before the United Kingdom has triggered the procedure to leave the bloc. Some believe that suits those at the top table as it buys them time to establish a post Brexit political strategy.