Ataturk Airport attack puts more pressure on Turkish tourism industry
Comments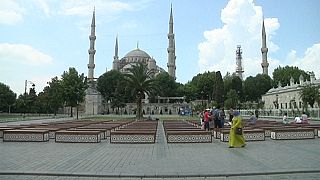 Tuesday's attack on Istanbul's Ataturk Airport is bound to further damage Turkey's struggling tourism industry.
Figures just released show the number of foreign visitors to the country fell by more than third in May, the most in at least 22 years.
The empty paths and heavy police presence around Istanbul's Blue Mosque tell the story.
American tourist Wendy Deaton, who passed through the airport shortly before the attack, expressed shock: "I feel absolutely terrible this is happening to Turkey. Everyone that we've come across here has just been so gentle and nice and I think it is devastating for the economy and for tourism here."
Timon Ng, a tourist from Hong Kong, said: "We were really shocked to find out about the attack. But in general, it will not effect our time in Istanbul because I can see walking around the city there are a lot of police and security and in general we feel very safe."
The increasing frequency and scale of attacks has scared away many visitors.
The Association of Turkish Travel Agencies fears the industry's income will be down by as much as 40 percent this year.
Shares in Turkish Airlines were down around 1.5 percent on Wednesday on fears that the transit passenger market, which has protected it to some degree against the fall in visitor arrivals, might also be hit by the bombing of its main hub.
There was a huge fall in the number of Russian tourists – down by more than 90 percent in May from the same month last year.
That was because the Kremlin banned charter flights to Turkey after the shooting down of a Russian fighter jet last November.
Ankara's hope is a newly announced rapprochement with Moscow will boost visitor numbers.
However Russia's ambassador to Turkey said that Russian tourism in Turkey cannot be fully resumed until the safety of Russian tourists is guaranteed.