Violence erupts as Poland marks Independence Day
Comments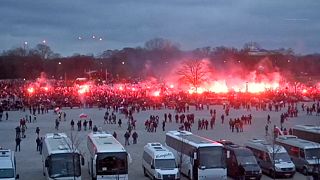 Tens of thousands of far-right activists have taken part in Poland's annual Independence March.
The rally started in the capital Warsaw and proceeded to the National Stadium where several speakers addressed the crowd to voice their opposition to Poland's reception of immigrants.
"Poland for Poles. Poles for Poland" was the slogan chanted as violence erupted between protesters and police.
There were calmer celebrations elsewhere. The main event took place at the Pilsudski Square with President Andrzej Duda overseeing a military parade to mark the end of Russia, Prussia and Austria's partition of Polish territories, 97 years ago.
There was also a mass at the Holy Cross Church to honour the memory of Marshal Jozef Pilsudski, one of the main architects of Poland's independence.