Toshiba hit by record fine over scandal as sales slump
Comments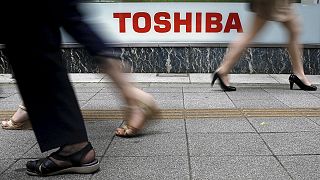 Toshiba has reported an operating 10.96 billion yen loss (80 million euros) from April to June, compared to a profit of 47.7 billion (350 million euros) the previous year.
Weak PC and TV sales are being blamed.
Last week Toshiba also published figures showing a net loss of around 280 million euros for the year to March.
The troubled Japanese conglomerate has also been ordered to pay a record fine over an accounting scandal.
The 91.2 million yen (660,000 euros) penalty was imposed by the Tokyo Stock Exchange.
The company apologised to investors and its president and vice-president resigned in July, after the multinational was found to have overstated profits for the past six years.
#Toshiba Posts Net Loss on Slumping Sales of Televisions, PCs http://t.co/6v5f35Zjj1

— Thudder & Wicks (@ThudderWicks) September 14, 2015
#Toshiba hit by record fine and put 'on alert' by Tokyo exchange http://t.co/ujaexVuA59

— Thudder & Wicks (@ThudderWicks) September 14, 2015