Toshiba boss quits over billion euro accounting scandal
Comments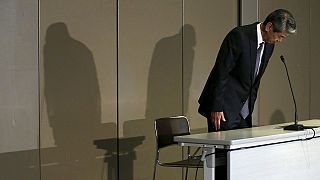 The boss of Japanese electronics company Toshiba has quit over a massive accounting scandal. Hisao Tanaka said he would step down after an independent investigation revealed the company overstated its profits for the last six years to the tune of 1.1 billion euros.
Toshiba chief steps down over accounting scandal http://t.co/YZZGYDE8ZDpic.twitter.com/JdKeduTpg1

— Tokyo Reporter (@tokyoreporter) July 21, 2015
Other board members have also quit to take responsibility for the accounting irregularities.
The probe revealed what it said were "institutional" malpractices and a corporate culture where workers were afraid to speak out against bosses pushing for increasingly unachievable profits.
Toshiba acknowledged a systematic cover-up, which began in 2008, as various parts of its sprawling business struggled financially including computer chips and personal computers.
Toshiba has repeatedly apologised to shareholders and customers.
Toshiba CEO to step down over accounting scandal: http://t.co/nNdDH3Cnucpic.twitter.com/LFGOrKr9xC

— Reuters Business (@ReutersBiz) July 21, 2015