Making the most of the net effect
Comments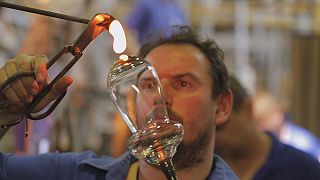 In this edition of Business Planet we visit London and the Czech Republic to discover how to make the most of the Enterprise Europe Network, a contact group for thousands of SMEs linked through some 600 business organisations all over Europe, and some 20 outside the EU.
Our story focuses on designer Jim Rokos who has won numerous awards and whose works regularly feature in leading UK design magazines
He works mainly with glass. One of his latest creations, a vase inspired by a wine carafe showcases his prodigious talent.
But such pieces have very particular production needs and Jim needed help to manufacture them on a commercial basis. He talked to the Enterprise Europe Network who put him contact with a specialist glass factory in the Czech Republic.
"We only needed 200 pieces," Jim says. So, it was very challenging to find a manufacturer who was willing to take us a small order, and also a manufacturer who could meet the very high standards of the luxury market."
It was in the Giant Mountains in Bohemia where Jim found his ideal partner. It is one of the oldest and most highly regarded glass factories in the world.
This happy union was all down to the matchmaking skills of the Enterprise Europe Network in London and Prague, with their thousands of contacts, entrepreneur profiles and crucial local knowledge.
The factory offered high quality production at competitive rates, and there were benefits for both sides, general manager Petr Novosad explains: "Working with modern designers can sometimes be very difficult and challenging. However, it brings new ideas to our production and brings attractiveness to our glass factory."
In just a few months and without having physically met Jim and Petr became close collaborators. After sample pieces were judged a success they launched into commercial production.
"Petr is going ahead with production, he also found me some very beautiful wooden packaging, and already we are thinking about the next project we are going work on together, which is going to be a wine decanter," says Jim.
From the factory's perspective, Petr is more than satisfied with his collaboration with the Enterprise Europe Network. As his business needed to diversify to survive he appreciated that the Network could bring new business opportunities.
"Working with the Enterprise Europe Network provided a direct link between us and our new customer," says Petr. "We were sure that the customer is serious about his business, and all the services from the EEN were free of charge."
So what are the keys to success for SMEs? – our customary question to to entrepreneurs on Business Planet.
Jim responds: "For me, the three keys to success are; the product must be absolutely beautiful. You must keep the people who you work with happy, and you must not hesitate to use your network when you need help."