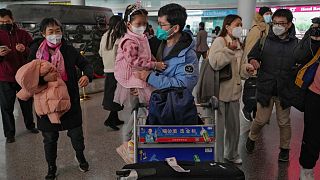 -
Copyright

AP Photo/Andy Wong
EU countries have agreed to phase out pre-departure COVID-19 testing for travellers from China by the end of the month.
When China reopened its borders and eased its strict zero-COVID policies last month, the EU initially failed to agree on a unified approach to incoming tourists.
As concerns mounted about China's suspected lack of transparent reporting on the virus, some countries ramped up their entry requirements to prevent its spread and the EU recommended introducing pre-departure testing.
Italy was one of the first European countries to tighten restrictions, ordering COVID-19 antigen swabs for all travellers coming from China - and was one of the first to ease them in late January. Spain soon introduced its own testing requirements, followed by France, Sweden, the Netherlands, Belgium and Cyprus.
A statement released by the Swedish Presidency on Thursday confirmed EU member states and Schengen Area countries have collectively agreed to drop pre-departure testing from the end of February.
Random testing of travellers from China will be carried out until mid-March when it, too, will be dropped.
France has already gone ahead and dropped both of these measures ahead of schedule.
What are the rules for people travelling into China?
On 8 January, China lifted its quarantine requirement for inbound travellers. A negative PCR test taken within 48 hours of arrival is still required. Results must be submitted on a Health Declaration Form via the China Customs website.
Passengers displaying symptoms of fever may be asked to undertake an antigen test on arrival in China. Those who test positive will be released to self-quarantine if symptoms are mild, or recommended to go to a medical institution for diagnosis and treatment if symptoms are more severe.
This is a major step towards easing curbs on its borders, which have been largely shut since 2020. The rules have gradually been easing in recent weeks to facilitate both domestic and international travel.
To enter Hong Kong, you must provide a negative rapid antigen test taken no more than 24 hours prior to departure or a negative PCR test no more than 48 before. Testing on arrival is recommended but not enforced. If you test positive for COVID-19, you are no longer required to isolate.
As of 6 February, passengers no longer need to show proof of vaccination to enter Hong Kong. Nor do they have to test or quarantine when travelling between Hong Kong and China.