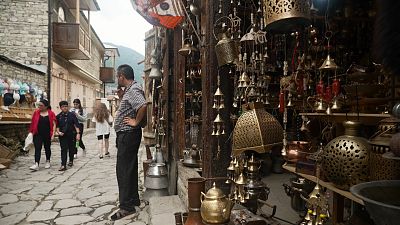 In this first episode of Explore Azerbaijan, our reporter Monica Pinna, takes us on a journey to two must-see towns along the ancient Silk road: Sheki and Lahij.
The town of Sheki, lies at the foothills of the Greater Caucasus Mountains, an ancient stop-over for merchants and traders. It's architecture and history are so unique, that Sheki is a UNESCO World Heritage site.
Silkworm breeding, the trading of cocoons and raw silk were the main business in Sheki during the golden age of the Silk Road. Today, silk and trade are still at the core of this vibrant town. The caravanserai were traditional roadside inns for travellers and traders, and here, there are two magnificent examples that still remain to this day.
My guide Qafur Ramizli, is an expert in the protection of architectural and historical heritage.
"Right now, we are standing in the upper caravanserai . It was built in the 18th century. At the time there were five caravanserais in Sheki, but only two remain to this day. Despite this being the smaller one, it has over 100 rooms", he said.
I could not leave Sheki without visiting the Khan's Palace, the summer residence of the Sheki Khans. Qafur explained its history to me.
"The palace was built in 1762 by the grandson of Chelebi Khan, Mamed Huseyn Khan as a summer palace for work. The construction took 10 years. They building was erected in two years, but they painted and decorated it for another 8 years."
The palace's windows are impressive. The glass came from Italy along the Silk Road, but the technique is all local. It is called Shebeke is still alive thanks to local masters, as Qafur described.
"Shebeke is a local craft, where wood and glass are anchored together by cutting them in a certain way, without the use of nails."
I left behind the colourful shebeke artists in Sheki to meet the masters of copper in Lahij. Along the way, the landscape unfolds, once crossed by ancient traders with horses and caravans.
The narrow cobbled streets of Lahij, has workshops and stores that look just like they did centuries ago, and they are probably as busy too.
For centuries Lahij has been known as the village of artisans, with over 40 crafts practiced here. But it's the coppersmiths that made it famous.
Kebleyi Aliyev's business has been passed from father to son for generations, but he told me that now he is worried that his art might be lost.
"There were 15-20 coppersmiths working in this workshop at the same time. Now I am the only one left. My children are helping me sometimes. I want the new generation to come, children to be interested in learning this craft."