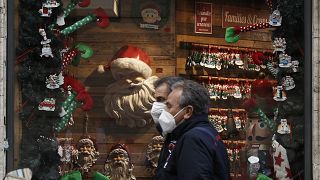 -
Copyright

Gregorio Borgia/AP
Italy has banned travel and midnight mass over the Christmas period after recording its worst daily coronavirus death toll.
Between December 21 and January 6, Italians will only be allowed to move between regions for work, medical reasons and emergencies.
This means they also cannot leave their towns on Christmas Day, Boxing Day and New Year's Day.
Italian Prime Minister Giuseppe Conte said on Thursday there was no reason for festivities to be any less normal, although locals were encouraged not to invite people home.
"It's clear this will be a Christmas that is different from the others but it will be no less authentic," he said.
More than 58,000 people have died in Italy since the start of the COVID-19 outbreak and on Thursday, the country broke it's 24-hour record after nearly 1,000 people died.
According to health authorities, 993 coronavirus-related deaths were recorded in a single day on Thursday. The previous daily record saw 969 deaths on March 27.
Meanwhile, the UK surpassed 60,000 coronavirus-related deaths on Thursday after another 414 people died.
This comes as the country prepares to relax restrictions for Christmas to allow several households to meet.
Transport Secretary Grant Shapps has also announced a series of travel exemptions as England re-emerged from its month-long lockdown.
He said "high-value business travellers" would no longer need to self-isolate when returning to England from a country not on its travel corridor list.
Coming into effect on Saturday, this exemption will apply to "certain performing arts professionals", TV production staff, journalists and recently signed elite sportspersons.
The World Health Organization (WHO) has warned that the situation surrounding the COVID-19 pandemic remains "fragile" across the continent as cases increase in Central Europe, the Balkans and the Caucasus.
"We cannot say we're in a stable situation across the whole region at the moment," said Dr Catherine Smallwood with the WHO's Health Emergencies Programme at a press conference.
The WHO's European region, which includes some Asian countries, accounts for 40% of global cases, regional director for the continent Dr Hans Kluge said, warning that rising cases in Central and Southern Europe were "of grave concern".
Georgia, Serbia, Luxembourg and Croatia have the region's highest cumulative number of COVID-19 cases per 100,000 in the past two weeks.
Senior Serbian religious leaders die of coronavirus
Serbia's incidence rate is up 121% in this two-week period of time, with a total of 191,356 confirmed cases. Serbia has been recording around 7,000 cases a day of the virus.
Recently, the two most senior Serbian religious leaders died of coronavirus, with many mourners attending the funerals, fuelling concerns that lax restrictions in the religious community would aggravate the spread of the virus.
Dr Kluge emphasised that there needed to be restrictions on large gatherings.
The "key issues" that work, which are "low technology [and] cheap is generalised mask-wearing and a strict control on social gatherings including on religious gatherings like mass funerals," Dr Kluge said.
Croatia introduces new measures amid soaring cases
Croatia meanwhile has recorded around 139,000 COVID-19 cases and is recording around 3,000 new positive cases a day for a population of around four million people.
Prime Minister Andrej Plenković recently tested positive for the virus. The country's health minister had also tested positive.
Plenković had announced new restrictions including closing bars and restaurants and limiting gatherings from the end of November, measures that will stay in place until at least December 21.
Other countries in the Balkans and in the Caucasus region are also experiencing increases in cases, Dr Smallwood said during WHO's European region press conference.
Western European countries on the other hand are seeing improvements with hospitalisations falling in countries that brought in tough measures to fight back the virus, with some planning to exit lockdowns ahead of the holiday season.
But experts at WHO warned that COVID "hasn't gone away" and "won't go away".
"Over the Christmas and winter holiday periods there's a potential, a very real potential of it becoming even more of a problem as people try to gather," said Dr Smallwood at the briefing.
There have been more than 90 million cases of COVID-19 and over 427,000 deaths reported in the WHO's European Region.
"The virus still has the potential to do enormous damage," Dr Kluge said, but said hailed the promising results from candidate vaccines saying their "reward" could be potentially "game-changing".