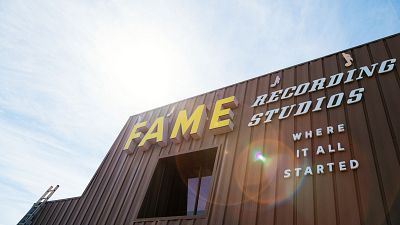 When you talk about blues and country music you have to talk about Alabama. This state in the southeastern region of the United States played a key role in the development of these genres, not only the country but also around the world.
As part of the series Notes from the USA, Northern-Irish singer-songwriter Foy Vance takes us to a small town at the heart of the state's musical reputation - Muscle Shoals - to discover the place where it all began… FAME Studios.
The legendary Rick Hall, also known as "The Father of Muscle Shoals Music" was the producer and owner of FAME Studios. While his recording studio was small and far away from the hotspots of the American music industry it became one of the most known and respected in the country, producing many hit records. Hall passed away in January 2018, at 85 years old. A year later his wife and son showed Foy around the studio where Hall made history.
'Where it all started'
FAME (Florence Alabama Music Enterprises) Studios owes its name to Florence, Alabama, where it was founded in 1959 by Rick Hall, Billy Sherrill and Tom Stafford.
In 1961 Hall took over as the sole owner and moved the studio to Muscle Shoals. For Mr Hall, it was a dream come true, the project quickly began to succeed and started to produce a large number of hit records.
According to his wife of 58 years, Linda, Rick Hall worked with anyone who had talent. FAME became a place where stereotypes were broken. Even back in the 1960s black and white performers collaborated there in "musical harmony", as Mr Hall wrote in his 2015 memoir, "The Man From Muscle Shoals: My Journey From Shame to Fame".
"He just worked hard, 18 hours a day […] I said I want a normal life, but I knew he'd never be happy", Linda Hall told Foy.
His ambition and work paid off. With the help of the talented house band, the Muscle Shoals Rhythm Section, also known as the Swampers. The Swampers worked at Fame Studio on many hit records before leaving to create their own competing business in 1969.
Over the year the FAME Studios produced major hits from Aretha Franklin, Wilson Pickett, Etta James, Otis Redding, among many others.
Rick was really close to his artists. Since there weren't many restaurants and hotels in the area at the time, the musicians often stayed at his home and spent time with his wife and sons.
"They became part of the family", remembers Rodney Hall, Rick Hall's son.
Carrying Rick's legacy
Before he died, Mr Hall talked a lot about his childhood and the humble family he grew up in. "I guess he was preparing me to be able to help my boys carrying his legacy on," his wife explains. "There is a story to tell".
Not much has changed in the studios over the years, making it a nostalgic and moving visit. Hall's office still has the "hot chair" where so many world-renowned artists signed contracts and exchanged songs before making history.
One of the treasures hidden in his office is a guitar played by Otis Redding only shortly before he tragically died in a plane crash.
"This is a special room for all of us", confesses his son.
"We're kind of still feeling him our way around".