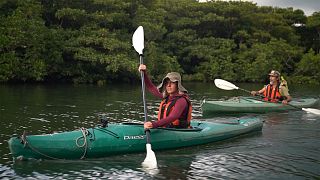 Overflowing with nature and wildlife, it's easy to see why some call the Japanese island of Iriomote the "Galapagos of the Orient". Covering some 300 square kilometres, around 90 percent of the island is made up of thick primary rainforest. A lush jungle with mangrove swamps that can be discovered by canoe or on foot.
One of the best ways to explore Iriomote is by river. The salty water that washes inland from the sea is the ideal environment for mangroves to thrive. The island's dense rainforest is also a perfect paradise for nature.
"The biodiversity here is very rich. You can enjoy lots of activities. The sea coral is beautiful. You can canoe along the river, trek in the mountains. You can have a lot of fun in this natural environment." said Takafusa Morimoto, a guide on the island.
Exploring the jungle interior is best done on foot and there are plenty of hiking trails on offer.
Iriomote is the second largest island in the Okinawa archipelago and home to a number of exotic species of flora and fauna, including the rare Iriomote cat.