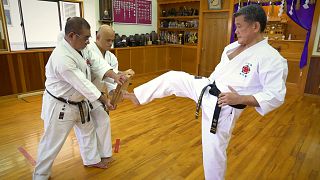 By Marta Brambilla Pisoni
Thanks to a lifestyle lived on a human scale, a relaxed rhythm and healthy habits, the Okinawa islands have the most living centenarians in the world .
And it is precisely in these Japanese tropical islands in the 19th century that karate was born. Its name is composed of Kara, which means empty, and Te which means hand and it is due to the fact that this martial art is practiced with bare hands.
In 2020 for the first time Karate will be an Olympic sport. Enthusiasts come from all over the world to train on these islands, considered its cradle.
"People from Okinawa train their minds and their souls through karate. And this state of mind is actually what gives Karate its charm. To be physically strong is not enough," says a member of the board of Directors of the Okinawa Karate-Do Federation, Yoshimitsu Matsusaki.
There are 430 small dojos where you can practise Karate on the Okinawa archipelago. Even beginners can learn the first notions of this discipline after training for a few hours.
"You have to dominate fear and failure. And you have to be mentally strong to succeed," says Matsusaki.
Karate's destructive power is well-known, but like all martial arts, it is more a way of life.