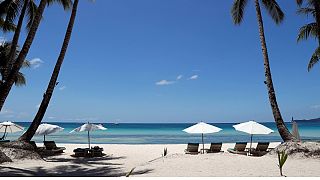 A 'paradise' in the Philippines' has just reopened after a much-needed clean.
Boracay, often listed as one of the world's best beaches, had been closed for six months.
President Rodrigo Duterte ordered the closure in April after seeing a video of dirty water being piped out to sea, a side-effect of decades of unregulated construction that caused the collapse of the island's tiny sewerage system.
The 10-square-kilometre island suffered under the strain of millions of tourists every year and the president described the iconic destination as a "cesspool" when he watched the video.
Closing an overwhelmed tourist destination has been a solution for other places, too. Earlier in October, Thai authorities announced that Maya Bay on Ko Phi Phi Leh island, which became famous after a Leonardo DiCaprio film, closed indefinitely to recover from the impact of tourism.
Half a year was enough to get Boracay smartened up and put some sustainable rules into practice. Click on the video above to see how the island looks now and what you need to know if you plan to spend your holiday there.