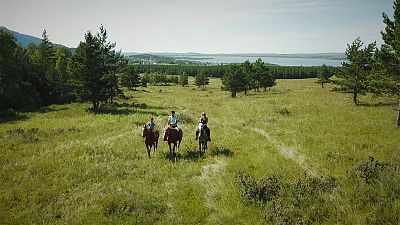 Burabay National Park takes its name from the lake and the town nearby. It is the epitome of wild nature: A mosaic of hills, steppes, forests and lakes that stretches out for 835 square kilometers.
Euronews journalist Marta Brambilla Pisoni visited the region and explains that the Burabay National Park is the favorite destination for people coming from Astana, the capital city of Kazakhstan, with many heading there to spend weekends and short vacations.
There are numerous fun activities, but the best way to enjoy this wild nature is on horse back. Yerzhan Ilyasov takes tourists horse riding with his young son, Alan, and tells Euronews that anyone can ride a horse after a short explanation lasting just 10 minutes
"Tourists appreciate the fresh air and being in contact with an extraordinary beauty, the lake, the mountain, nature, riding a horse," said horse riding guide Yerzhan Ilyasov.
In Burabay Park there are 757 species of plants, and thanks to this diversity, the fauna is really abundant.