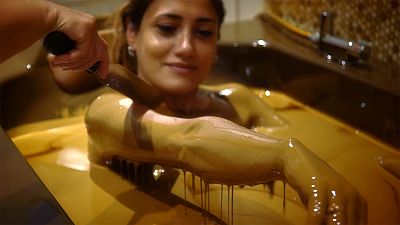 The Naftalan bath oil is a unique therapy only found in Azerbaijan.
But unlike crude, experts claim that sitting in this liquid commodity is good for one's health. Experts claim it can remedy up to 70 ailments.
Euronews' Sergio Cantone says: "Visitors, locals and the health-conscious can experience a very peculiar therapy based on a special kind of oil, the Naftalan oil."
The oil contains physiologically active substances and is used for health treatments.
Dilber Kazimova, head doctor Garabag Hotal, says: "Naftalan is a special kind of oil that comes naturally from the earth. Unlike regular oil, it is not combustible. It is rich with Naftene carbohydrates, which produces a painkiller, an anti-inflammatory and it also treats musculoskeletal and skin diseases.
This particular oil is very difficult to find elsewhere, so Naftalan is the only place where one can find this treatment.