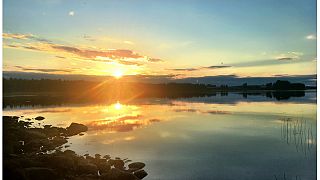 One of the busiest Christmas destinations in the world is a small city in northern Finland called Rovaniemi.
This magical spot in the Arctic Circle is the capital of Finnish Lapland and the official home of Santa Claus.
As well as visiting Santa and Rudolph, tourists can also catch the Northern Lights and enjoy winter pursuits such as snowmobiling and husky sledding.
But during the summer months, a different type of magic takes over the area. A natural phenomenon known as the Midnight Sun means the sun never sets and it never goes dark.
Vast forests and lakes and a plethora of wildlife emerge beneath this endless sunshine. And now boutique hotels, outdoor spas and world-class food are encouraging more summer travellers.
Click on the video above to see TV journalist and travel writer Sally Meeson explore the area.
Stay tuned for more videos about travel, culture and rides & experiences around Europe on Living it.