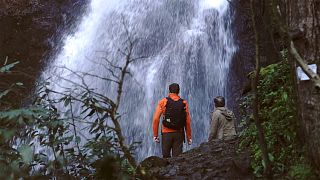 It is pure, unblemished nature...
Yet the Mtirala National Park can be found just 40 kilometres from Batumi, the capital city of Georgia's autonomous republic of Adjara.
"We're lucky to have the sunshine: this Adjarian national park, Mtirala, is considered Georgia's rainiest spot of land," said Euronews reporter Denis Loctier, as he explored the region.
In this high humidity, the air is fresh and fragrant with blooming flowers and herbs. 
It's a protected site for the region's flora and fauna, including rare and endangered endemic species.
"Mtirala translates as 'a weeping mountain'. This place is often clouded in mist and drizzle. That's where the name comes from," explained park guide, Zia Kontselidze.
At 1,500 metres above sea level, Mtirala's trails are perfect for hiking, bird watching and adventure tours.