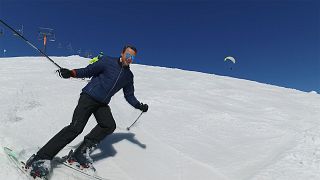 In our Georgian adventures, the sky is the limit as we discover the country's most popular destination for ski holidays!
"The Greater Caucasus is Europe's highest mountain range and this is where we find Georgia's best known ski resort - Gudauri," declared our intrepid reporter Denis Loctier as he paraglided into the zone, with an instructor.
The slopes in Gudauri reach an altitude of 3,300 metres above sea level, so the skiing season begins in early December and lasts until the end of April.
The resort is famous for its snow quality and skiing infrastructure — the most developed in Georgia.
"Gudauri is the largest ski resort in our country and the closest to the capital," said one enthusiastic skier, Nino Tkavadze.
"I think it has huge potential with the diversity of mountains around here!"
Accessible from Tbilisi in less than two hours, Gudauri offers 70 kilometres of ski runs, unlimited off-piste opportunities and a choice of extreme adventures like heli-skiing and speed riding.